Models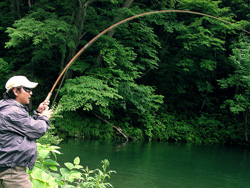 You can see the rod bending shape."TOKACHI TROUT RODS" has, as their basic action, powerful and speedy action, so to say, "TOKACHI Progressive Action." "TOKACHI Progressive Action" means that it not only can adequately carry the line stress to the butt with a slight load, generate quick torque by the whole rod, and allow us to cast high speed line, but also this progressive action exerts remarkable rod recovery potential. These are this action's aim. When compared the same line number rods with different lengths, the shorter they are the stiffer they are. Using my own made ferrules which enable the rods to accomplish their unity of the whole rods, the rods are very light in their weight, and using three piece construction, the rods are very easy to carry. See the following for the details of each rod series.
PIRIKA series for #3 line (7'3", 7'6", 7'9", 8'0")
Near my shop, we have a lot of small spring-fed streams, I wouldn't dare to call them SPRING CREEKS but they always flow cool clear water winding along meadows and fields. There we have small brown trout (8" to 10" long), which are really beautiful as a gem. Also in the upper parts of the rivers in Tokachi area, free stone streams, we can enjoy bright and sunny dry fly fishing with mountain char, dolly varden. This series targets such a delight fishing.
Its action aims to prevent the rod from getting flat and fine tippet, for example DT3 line and 6X, from breaking, during the fight with full tension on the rod and with push back from trout on a main current. Matched with a finer tip than other models, this series has nice progressive characteristics and persistent power caused by a swelled butt. By these characters, you can cast quickly and rapidly in very short and middle range. Investing the know-how gained during my development of heavy line series, I realized the good response of the rods in casting. You cannot expect such a crisp and vivid feeling when you see its tight and slender appearance.
MAKIRI series for #4 line (7'6", 7'9", 8'0")
In the suburbs of my town, where houses are getting sparse, middle size waters are bringing up beautiful rainbow trout. Such rivers have a little bit challenging points, like curved banks with many logs and riverside overhanging woods. Fish appearing from such a deep spot, sometimes over 16" big, often jump and jump and show us his toughness when hooked. This series targets such a delight fishing.
Using DT4F line and 5X tippet on this rod, when you cast a big dry fly in a short distance, this model can manage easily such a situation by the powerful dry action which comes from the slightly finer tip than other models. By the swelled butt, this model acquires much power at its butt section. This improves rod's response to the middle size fish and at the same time does the quality of repeating cast. When you do long range casts many times in mainstreams, or you need to send your fly into the point by a long drift, you can adopt WF4F line for the purpose.
SHUMARI series for #5 line (7'9", 8'0", 8'3", 8'6")
At the lower reach in Tokachi area where there are the touchingly clearest streams in Japan, wide open riverside and deep winding strong current hide trophy rainbow. When you cast big dry flies as freely as possible on the water, a big shadow comes up from the main current. But if you want to succeed and get a tight line, you cannot do without natural drift of your fly for a moment. If you can make it, surely at your line end is the fish! But after that you face real fight. Sometimes you need to send your heavy nymph fly to the bottom. It is just like the Tongariro (New Zealand) style nymph method. This series targets such a serious fishing.
Using DT5F or WF5F with 4X tippet, the rod need to manage the powerful 20" over trout. Moreover to achieve the rods with thick torque for the easy turn over of big flies and the punching power, I add a little touch of power to the middle section on the basis of TOKACHI progressive dry action. You can face all-round fishing scene, dry and nymph, with this one rod. If you need a rod, this SHUMARI is it.
TOMURAUSHI series for #6 line (8'0", 8'3", 8'6", 8'9", 9'0")
Just in front of you, 24" to 28" wild rainbow is keeping on rising. In Tokachi we have quite a few fishing fields where we can catch over 28" rainbow by dry flies. Flowing currents crossing complexly, along form lines there, trophy trout are staying. Currents are constantly moving, and fish are the same. On seeing the fish entering your casting range, you should make full line distance presentation of the fly. And the fly is cicada tied on #4 salmon hooks, your leader is 2X with 3X tippet. Or you should tie #18 flying ant on 5X tippet. Of course to clear the tortuous current you need a longer leader. Power of the huge trout you hit is beyond your expectations. You have to bear the fight that you may say a battle. I might well say the existence of these trout made me develop this series, TOMURAUSHI. To develop the performance which might be the limitation of split bamboo rods, I would say, is no other than challenge to "TOKACHI TROUT RODS." This series targets such a triumph and are dedicated to the encounter with a trophy by a dry fly.
Using WF6F with 3X or 4X tippet as a standard, this rod covers close range to full line distance. Even a long rod I maintain light feel in casting, and along with good accuracy performance to drive a big dry or a weighted nymph away to the point precisely, this rod has power to control the fight with over 24" rainbow. It is good enough to call this rod flagship model of TOKACHI TROUT RODS.
These model names are taken from the language of our indigenous people, Ainu in Hokkaido. Because I respect their knowledge and culture on nature.
Each name means;
PIRIKA: pretty
MAKIRI: sword
SHUMARI: fox
TOMURAUSHI: moss covered river